Welcome to the Wasilla Main Street Rehabilitation project website!
Project Introduction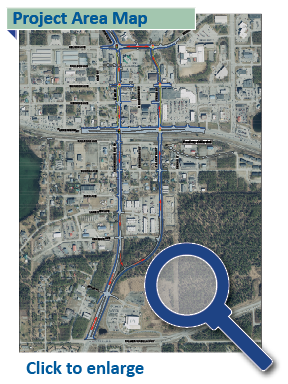 The Alaska Department of Transportation and Public Facilities (DOT&PF), in cooperation with theFederal Highway Administration (FHWA), proposes to improve mobility by reconstructing Main Street and nearby roadways in downtown Wasilla. FHWA approved the Final Environmental Assessment and signed a Finding of No Significant Impact (FONSI) in December 2013. The design team is currently working towards a 95% design that will include improvements to pedestrian and bike facilities and the roadway.  Visit the Project Overview page to read more about the project.
80-85% Design Plans are available on the Project Documents Page.
Project Purpose & Need
Improving local mobility for people and freight


Improve Travel Efficiency – increase traffic circulation, decrease delays, increase north-south corridor connectivity


Reduce Congestion – reduce intersection delay


Enhances Safety – reduce crash rates, minimize railroad conflicts, separate pedestrians and bicyclists from traffic stream